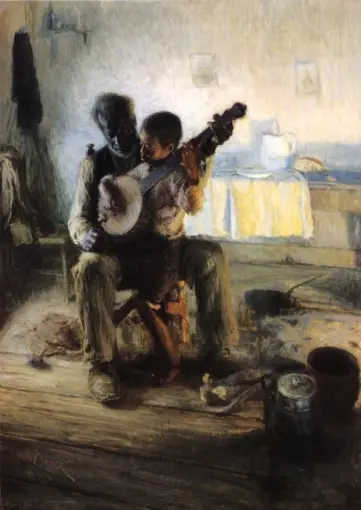 My idea of power has been radically transformed over the last several years, in large part because of Diane Langberg's work. Her book Redeeming Power is partially a critique of the misuse of power in evangelical spaces, and a call back to its intended purpose.
I recently listened to Andy Crouch speak about power in a unique and compelling way in a talk he gave at Calvin College in January 2011.
Crouch's talk on power has prompted another transformation. The idea that our power lies not only in agency or our ability to choose, but in our creativity as well, is gripping. We image God in both ways, and both are powerful – to choose and to create. 
In the talk, Crouch showed this painting. Crouch described The Banjo Lesson, the painting by Henry Ossawa Tanner, in contrast to another painting which dehumanized the subjects. The power of creativity is evident. Since I was only listening to the talk, I didn't see the paintings side-by-side, and I don't remember the name of the other painting. I don't need to. Crouch's description of the other one was enough for me to understand that while both paintings are creative works, only one brings life and generates hope. The other mocks and diminishes. Tanner's art is true and beautiful and connects us with one another, makes us more human together.
Unlikely Friends
My first view of the Tanner painting immediately made me think of a story about a 10 year old boy and his 60 year old friend. The story is told in a song called Curtis Loew by Lynyrd Skynyrd. Part of the lyrics follow.
Well I used to wake the morning, before the rooster crowed
Searching for soda bottles to get myself some dough
Brought 'em down to the corner, down to the country store
Cash 'em in and give my money to a man named Curtis Loew
Old Curt was a black man with white curly hair
When he had a fifth of wine he did not have a care
He used to own an old dobro used to play it across his knees
I'd give old Curt my money he'd play all day for me
Play me a song Curtis Loew, Curtis Loew
Well I got your drinking money tune up your dobro
People said he was useless, them people all were fools
'Cause Curtis Loew was the finest picker to ever play the blues
He looked to be sixty and maybe I was ten
Mama used to whoop me but I'd go see him again
I'd clap my hands stomp my feet, try to stay in time
He'd play me a song or two then take another drink of wine
The story never calls what they had a friendship, but I believe it was. As I think about why I love this song and have since the first time I heard it decades ago, it's because of the connection between the man and the boy. Age, race, and other external factors didn't prevent the connection. It's obvious the boy looked up to the older gentleman and enjoyed the old man's company – even at the risk of being in trouble with his mom.
On and On
Like Tanner's painting, the song shows the generative beauty of connection and sharing creativity with another. The old man in the painting is teaching the younger one his craft. Curtis Loew shares his craft with the boy. It brings joy and delight.
The truth about our God-given power to create is that the effects are generative. The joy, the beauty, and the benefits go on and on. Whether it's a painting or a song, a piece of furniture or a speech, a cozy room in our home or the spreadsheet your boss asked for, the way you prep your rod and reels for the next time on the lake, or the poem you write in your journal – our creations matter. The Banjo Lesson is still enjoyed 130 years after it was painted. Almost 50 years later, Curtis Loew continues to tell the story told by songwriters. Our meals and rod and reels won't be remembered years from now, but the experience of preparing them and enjoying them will. And the effects of those experiences are generative – they nourish, heal, soothe, or comfort.
The question before us then is how we will use this power. Will we use it to tell true stories, to connect us with one another, to bring joy, to reveal the beauty of our diversity and differences, to heal, to know, and love?
Thankfully, the Creator of All is eager for us to join Him in making beautiful things and gives us everything we need to do so.
Photo by Josh McLain on Unsplash