This month's guest post is by a friend I met in 2017 at the first writer's conference I attended. We were in several breakouts and a critiquing session together and connected over a shared desire to encourage others with our writing. We reconnected this week and I'm glad we did.
Dyann works full-time as an accountant, like I do, and still manages to write and encourage others on her website, Personal Parables. It's evident from her writing that she knows a thing or two about living like it matters. This post was originally published on March 3, 2020 at her website and is perfect for my Live Like It Matters Challenge.
---
Little Places
by Dyann Shepard
I was very fortunate to have praying grandmothers. By the world's standards, they lived very insignificant lives. But to me, and more importantly to God, their lives were BIG. Why? Because they lived for Him. My Grandma Goforth never drove a car, was orphaned by the time she was six, but she loved Jesus. She lived a simple life. She was kind, gentle, loving, and faithfully prayed. She went to work at 54 when Grandpa died and worked for 20 years. It took two people to replace her when she retired. I loved being with her. Every summer, I took the greyhound bus to Glendale and spent a week with her. She always had ice cream bon bons and ginger snaps waiting for me when I arrived. We played "pick up sticks" and read together. We would walk to Baskin Robbins for ice cream, take the red bus to "Bob's Big Boy" for hamburgers and chocolate malts. I just loved her! She had a profound influence on my life. She wasn't famous. She wasn't what the world would call a success. She was my grandma. I remember every room in her home, the pictures on the wall, the furniture, and even the special dishes we always ate on. She died before I could tell her how grateful I was for her, her prayers, and her love. The ripple effect of her life lives on in me and hopefully in my children and grandchildren. I hope her influence pours over to my friends and acquaintances. I am sure she never knew she was the woman I strive to be.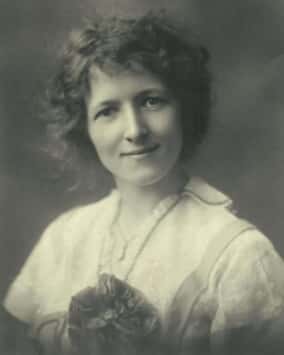 After my grandma died, I found little notes wrapped around some of the few earthly possessions she had. These writings were sometimes addressed to me, telling me the history of the item. Her journal was a ragged beat-up binder, but inside were treasures of her prayers and thoughts. She wrote prayers for my parents, me, and my brothers. Her heart and love for God are reflected on each page. She enlarged my life by her presence and continues to expand it by her memory and the few things I have of hers. She was a sweet aroma of Christ.
I discovered a poem in her journal called "Little Places." I have included it for your reflection. This poem always reminds me that what I see as little, in God's hands, is multiplied. When we make whatever we have available to God, he takes it, blesses and multiplies it beyond our wildest imaginations. We see this principle in scripture when Jesus feeds the 5000 with the five loaves of bread and two fish given by a young boy. The boy gave what he had without concern of it being too little to be useful. In the hand of God, it was more than enough.
I have a dear friend, Steve, who lives in an assisted living facility. He has MS and doesn't get out much. He spends his days reading his Bible and praying. Some may say his life is small, but they would be so wrong. His life is huge. He has the glow of Jesus on his face. Love and joy pour out from him. The caretakers at the facility where he lives often come in and ask for prayer. He has a tiny corner of the world to tend, but the fruit of that plot is plentiful. God takes my friend's offering of love and prayer and multiplies the blessing for each person who is fortunate enough to be in his life.
When we offer to the Lord what we do have, as small or tiny as it may seem, He will take our offering and do something incredible. We may not ever know the outcome. My grandmother didn't know how her offering of time and love transformed my life. My friend, Steve, may not always see the fruit of his offering. We don't need to know the outcome. God wants us to give our offering and leave the results to Him.
Blessings,

LITTLE PLACES
"Master, where shall I work today?"
(My love flowed warm and free).
He pointed out a tiny plot, And said "Tend that for me."

I answered quickly, "Oh no, not there
Not anyone could see
No matter how well my task was done-
Not that little place for me."

His voice when He spoke-it was not stern,
He answered me tenderly.
"Little one, search that heart of thine,
Are you working for them or Me?
Nazareth was just a little place,
And so was Galilee."

~Author unknown (This poem was found in Grandma Goforth's journal.)
Photo by Benjamin Combs on Unsplash